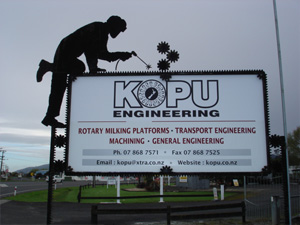 PH 07 868 7571 - Box 463, Thames
Kopu Engineering is a Kopu (Thames) based company with over 40 years experience. We design and build your products with you and your needs in mind. We have vast experience and knowledge to manufacture products that will fit your specific requirements, as well as being flexible enough to allow further customisation for future options.
As a result of this, we have built up a reputation as problem solvers.
We have a huge range of skills & expertise built up over years of on the job experience.
Please take a look at some of our recent products and services>>
Our management & staff have a diverse skill base to call on. We have welders, machinists, fitters, engineers, we also draw and design using CAD & 3D modelling. We also have a newly built Dyno room.
We are the largest local stockist of steel, and also a broad scale of engineering supplies >>
Because of our structure we are flexible & have the ability to move quickly to suit your needs, and with our proven history you know you will get a quality job and we will still be here in years to come.